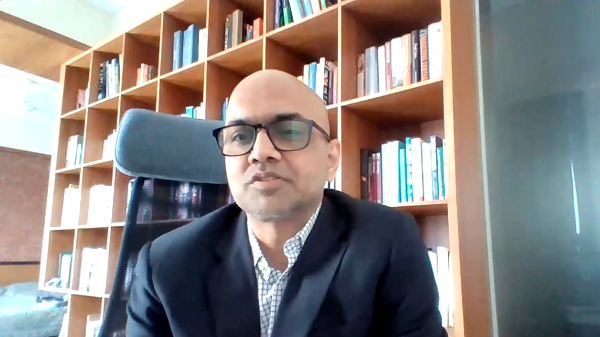 Mr. Debasish Mishra, Partner, Deloitte India delivering the presentation on Post Budget Analysis 2022.
1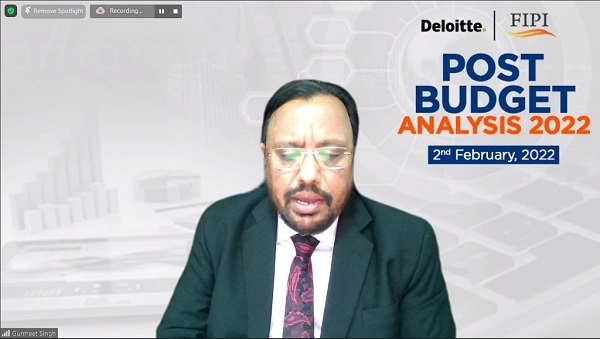 Mr. Gurmeet Singh, Director General, FIPI welcoming the participants.
2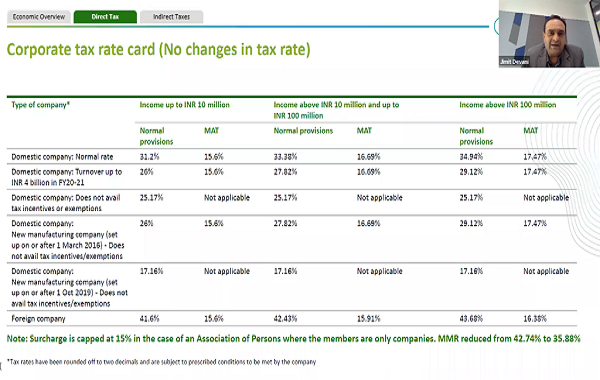 Presentation is in progress.
3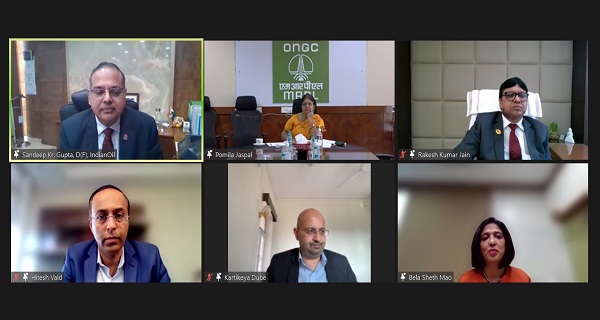 Panel discussion moderated by Ms. Bela Sheth Mao, Partner, Deloitte India
4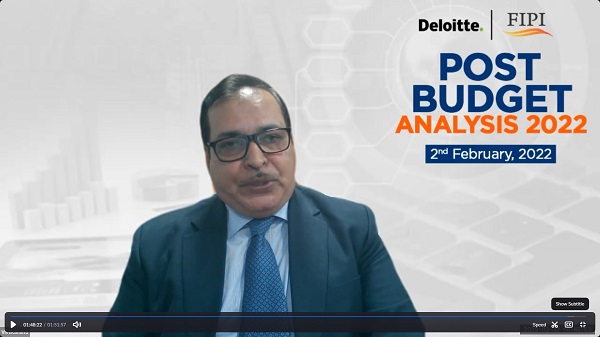 Mr. Vivekanand, Director (Finance Taxation and Legal), FIPI delivering the closing remarks.
5
asd
Previous
Next
02-February-2022
FIPI Post Budget Analysis 2022
The Union Budget for the Year 2022-23 was announced by the Hon'ble Finance Minister of India Smt. Nirmala Sitharaman on 1 February, 2022. Keeping up with FIPI's long tradition, FIPI organized its flagship FIPI Post Budget Analysis 2022 session on 2nd February with Deloitte India as the knowledge partner. The Budget session was attended by nearly 300 delegates (virtually) and was appreciated in terms of content by one and all. The objective of the session was to analyze the recently presented Union Budget 2022-23 and weigh the impact of the Budget on the Economy and India's oil and gas industry. The session was attended by many senior dignitaries from across the industry.
In his opening remarks, Mr. Gurmeet Singh, Director General, FIPI, welcomed all the panelists during the budget analysis session organized by FIPI. He said that the Budget has come against the backdrop of gradual recovery taking place in the Indian economy hit by the COVID-19 pandemic and spoke about some of the key announcements highlighted in the Economic Survey and Union Budget 2022-23. He mentioned that India is on a growth trajectory as India's GDP is projected to grow in real terms by 9.2% in 2021-22 and 8.0-8.5% in 2022-23 as highlighted in the economic survey. He highlighted that the growth of the economy will be supported by widespread vaccine coverage, gains from supply-side reforms and easing of regulations, robust export growth, availability of fiscal space to ramp up capital spending, and pick up in private sector investment. He said that the budget was growth oriented with increased focus on Inclusive development, productivity enhancement, Energy transition & climate action, and financing investments.
He further added that FIPI through its Pre-Budget Memorandum, is still pursuing the government on issues like OIDB cess and inclusion of five petroleum products under the ambit of GST and assured the industry members that it will continue to highlight these issues at relevant forums in the future as well.
Setting the context for the session, while Mr. Debasish Mishra, Partner, Deloitte India, made presentation on the key takeaways of the Economic Survey, the insights on Direct tax & Indirect tax were presented by Mr. Jimit Devani, Subject Matter Expert and Mr. Anoop Kalavath, Partner, Deloitte respectively. Mr. Debasish Mishra welcomed Govt's decision to increase capex to Rs. 7.50 cr as it will provide a multiplier effect on the growth of Indian economy. He further said that with fiscal deficit targeted at 6.9% in FY 22, the increase in government investment will have a positive impact in terms of demand generation and employment opportunities in core sectors such as cement, steel and other ancillary sectors and with introduction of PLI scheme, an additional 2% growth will be added to the Indian economy. He said that currently govt's focus is primarily on clean energy transition and welcomed Govt's initiatives announced in the Budget that will help India to achieve its ambitious target of renewable energy addition by 2030 and India's commitment towards net zero goals by 2070.
When speaking about the direct taxes, Mr. Jimit Devani pointed out that under the corporate rate tax regime, Govt's announcement to cap the Surcharge for consortium of Indian companies at 15% from current rate of 37% is a favorable amendment for various oil and gas companies. Further he added that another positive key announcement was incentive of concessional tax regime of 15 % for all the newly incorporated manufacturing entities to be extended by one year i.e., from 31st March, 2023 to 31st March, 2024. Mr. Anoop Kalavath highlighted the provisions made under the indirect tax.
The main highlight of the session was the 'Panel Discussion on Union Budget 2022-23, focusing on the outcome for oil and gas companies in the new budget. The panel comprised of Mr. Sandeep Kumar Gupta, Director - Finance, Indian Oil Corp Ltd, Mr. Rakesh Kumar Jain, Director – Finance, GAIL (India) Ltd, Ms. Pomila Jaspal, Director – Finance, MRPL, Mr. Hitesh Vaid, Deputy Chief Financial Officer, Cairn Oil & Gas, Vedanta Ltd and Mr. Kartikeya Dube, Chief Financial Officer – Reliance BP Mobility Ltd. The panel discussion was moderated by Ms. Bela Sheth Mao, Tax Partner, Deloitte.
During the course of the discussion, the panelists highlighted the key positive outcomes of the budget in terms of PM Gati Shakti - allocation of capex which will ultimately give boost to demand for petroleum products. The panelists were of the view that a step up in the capex to Rs 7.50 lakh crore would attract private investment, boost economic growth and create job employment opportunities.
The panelists welcomed the incentives provided to new sources of energy in the Union Budget in order to lower carbon emissions and move towards green energy transition. The launch of sovereign green bonds, a battery-swapping policy to boost EV ecosystem, allocation of Rs 19,500 crore for PLI scheme for manufacturing of high-efficiency solar modules, and use of biomass pellets in thermal power plants are welcome moves to promote clean energy. Further they felt that Govt's announcement on imposition of additional excise duty of Rs 2/litre on Unblended fuel will promote blending biofuels in petrol and diesel, however the modalities and its implications on companies and consumers is still to be clarified.
The panelists felt that a viable solution is required for storage of wind/solar power, or electric vehicles, and use of biomass to become full-fledged alternatives and become crucial in India's energy basket. The panel had a consensus on inclusion of all petroleum products under GST. The Oil & Gas industry is losing significantly in terms of input tax credits due to non-inclusion of petroleum products under GST. The panelists believed that for meeting Govt's vision of India becoming a gas-based economy, a call has to be made by GST council to bring gas under the purview of GST soon.
Delivering the closing remarks at the session, Mr. Vivekanand, Director (Finance, taxation and Legal), FIPI, thanked all the panelists and the subject matter experts for providing their insights on the Union Budget 2022-23 and its implications on the oil & gas industry and the economy as a whole. He said that the budget was in the right policy direction for the Government to achieve its CoP 21 and CoP 26 commitments and the energy transition. He further highlighted that with Govt spending of Rs. 7.5 lakh crores and assistance provided to State Governments, Indian economy can achieve its targeted growth of 8-8.5% by 2023. In his concluding comments, he said that for achieving a gas-based economy, it is crucial for gas to be included under the ambit of GST and subsequently the other petroleum products and assured the industry members that FIPI will continuously strive to pursue this issue at relevant forums in the future as well.
Presentation on Post Budget Analysis 2022